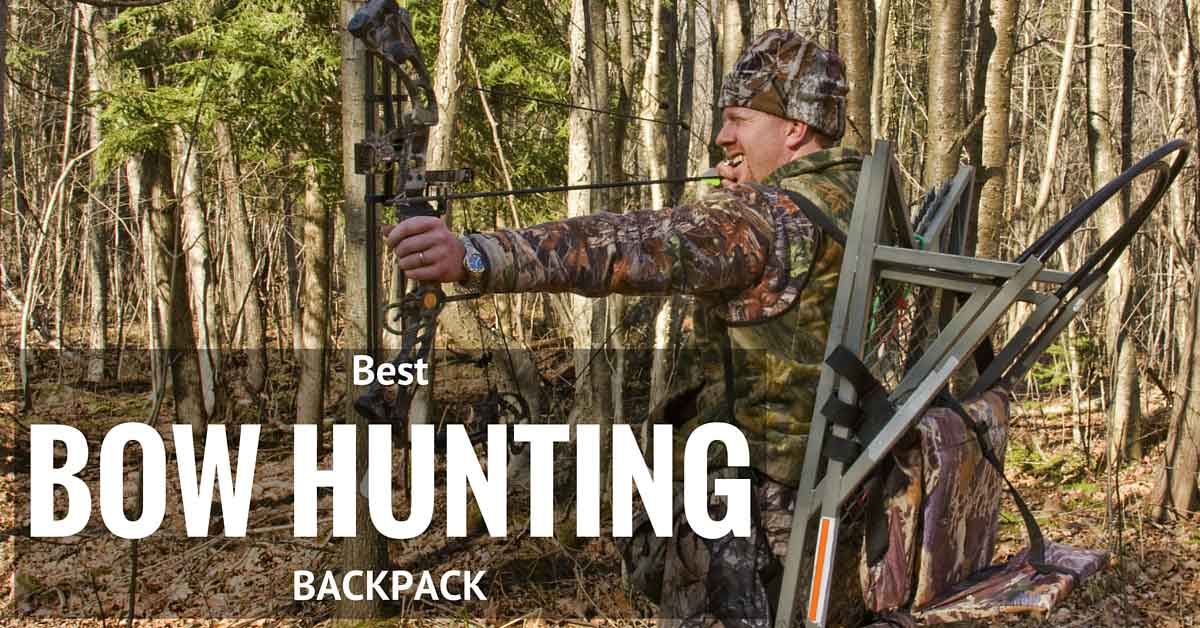 Best Bow Hunting Backpack
If you've been hunting game for quite some time now, you'll be aware of the significance of having a sturdy backpack that can comfortably carry your weapon (either bow or rifle). Of course, the standard bow hunting backpack will be superior in every aspect compared to the conventional rucksack used by hikers and trekkers.
At the least, the hunting backpack should be thoroughly waterproof, silent, breathable, and extremely resistant to wear and tear.

How To Choose A Bow Hunting Pack?
It doesn't need to be overemphasized that each and every hunter will have his specific requirements and preferences when it comes to choosing a quality hunting pack. Since one man's meat is another man's poison, there can't be any absolute best bow hunting backpack that'll perform excellently regardless of the circumstances and appeal to all and sundry. So, there's no one-size-fits-all sort of backpack.
As hunters come in all shapes and sizes, it follows that different brands of hunting knapsacks are available each having its own specific features. Seasoned hunters will naturally look for a backpack that perfectly lives up to their game hunting expectations. However, if you're someone who is starting to pick up the nitty-gritty of hunting, you could well with an entry-level or basic rucksack as long as it serves your purpose(s).
You can always graduate to a more sophisticated or advanced product once you amass extensive experience. The need to have a robust backpack is indispensable for those who leave for hunting expeditions more often. Amongst other things, the type of terrain or topography in which you prefer to hunt, the season, and the kind of activities you'll be usually performing will invariably influence your choice of best bow hunting backpack.
One of the most fundamental requirements that any hunting rucksack should be able to fulfill is roominess. That is, your knapsack should have sufficient space to carry all your essential supplies, and of course the hunting bow. Besides that, there are some common criterions that all bow hunting backpacks should meet.
The Fabric Should Be Considered First
All experienced hunters will agree that a hunting pack of superlative quality will always be stitched out a material or fabric that is hard-wearing. Usually such a bag is sewn from polyester textile or from nylon reinforced with polyurethane. The material of the hunting rucksack makes the bag extremely waterproof which is a rudimentary feature of all standard hunting packs.
The fabric should also have good ventilation quality which will allow the material to breathe. This attribute is important as you'll be hauling game meat that may putrefy if stored in a compartment or pouch that doesn't allow air to pass through. However, you might have to struggle to find such a bag that has a breathable fabric and is waterproof at the same time.
Hence, you'll have to settle for a pack whose fabric incorporates both the factors judiciously instead of integrating one at the cost of the other. The next aspect you'd need to consider is the lightness (or heaviness if you like it) of the product. Since you'll be hauling the backpack often with game meat, apart from the essential supplies across wild and rugged terrains, you'll naturally want the product to be as lightweight as possible.
The onus then shifts again to the material from which the product is stitched. Nylon or polyester fabrics are usually lightweight and flimsy and these innate attributes are usually transferred to the product. Quietness of the fabric or cloth is a factor that you need to pay attention to as well. You may find it quite awkward or embarrassing to own a pack that gets a tad noisy as the contents bump into each other when you trek or take out your weapon or approach the game stealthily.
The real test of a textile's 'silent' quality is during the winter months (when most hunting safaris are undertaken) when most fabrics tend to become stiff and coarse. Only a hunting backpack made out of specialized grade of fabric can fulfill this requirement. To say the last but not the least, the backpack needs to be highly durable and resilient.
A good quality rucksack that you can use during your hunting trips will require you to invest a handsome amount of money as you'd expect the same to remain serviceable for a long period of time. And only a heavy-duty bag can withstand the ravages of time and continue to be of use for years on end.
The Quantity Aspect Comes Next
The quantity aspect needs to be factored in when selecting a backpack commensurate with your hunting needs. If you're more into small or medium-sized game shooting like fowls, rabbits, woodchucks or turkeys, a normal daypack would be par for the course. But if big game hunting is your forte, then you'd have to look beyond the daypacks. You'll have to choose between a sizable backpack or opt for a distinct duffel bag or settle for a product that is expansible.
If you insist on carrying a daypack, then you'll have to select one that comes equipped with a supporting structure or framework that helps in distributing the overall weight. Some bags have built-in internal frames while others have frames that lie outside. Any ergonomically-designed bag with a robust frame is effective in distributing weight evenly so that the total load doesn't inconvenience you. A superior frame helps in balanced weight distribution so that the central line of gravity passes exactly through the middle of your body.
Does The Pack Allow For Comfortable Carriage Of Weapon?
The hunting bow is undoubtedly the single-most important item that you'd be carrying in your pack. Needless to say, you'd want to heave your weapon in a comfortable manner. So, you'll have to pack the bow or the rifle in a manner so that lugging the weapon or taking out quickly doesn't become a drag.
A quality hunting backpack usually comes with a system that makes it convenient for you to carry the weapon. For instance, a bow hunting rucksack has a separate pouch for placing the bow and arrows in a secure manner. Such a knapsack may also have a pocket or holster that lets you position the same in a way that not only holds the weapon firmly but also allows for quick pulling out when required.
Size Matters
After you're done crosschecking with the quality parameters, it is the size of the bow hunting backpack that needs to be taken into account. The last thing you'd want to carry is an ill-fitting rucksack that may completely mar your game hunting trip or safari in more ways than one. And contrary to what most experienced hunters would tell you, it is not your height that is the main criterion or prerequisite in selecting the size of backpack that'd be appropriate for you.
It is the extent from your shoulder to the hip (the length) that determines the suitable size of pack. Based on this measurement, you can choose a bag that is large, medium, small or miniature.
Conclusion
So, there you have it, three different bow hunting backpacks each with its distinctive and discernible features. So, which one would be apposite for you? Now, that of course will depend on your hunting needs and preferences as has been explained above. If you're an astute hunter with many caps under your belt, then the Tenzing TZ 4000 is the one for you as it can be adapted handsomely with your lofty expectations. The ALPS Outdoor Matrix backpack makes a practical choice if you prefer hunting with a range of weapons. The Badlands Superday Pack is ideal for those who've are yet to master the skills of hunting.