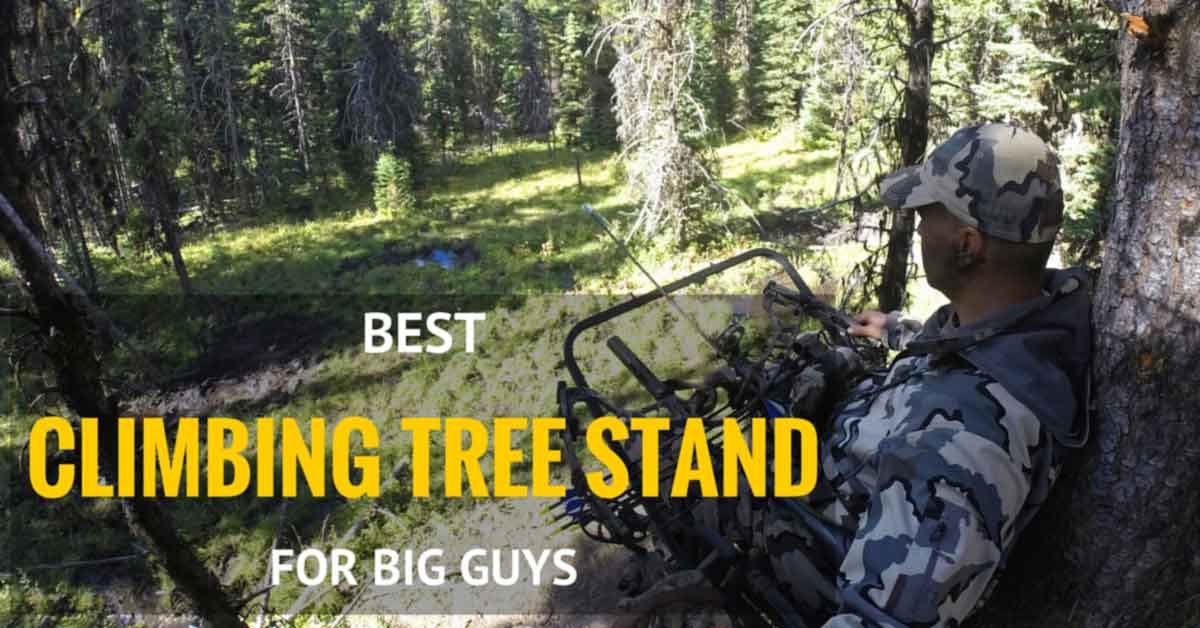 Best Climbing Tree Stand For Big Guys
Finding a tree stand is one of the most important things a hunter has to do. For the big guy, the task is amplified as they need an unit that won't just do the job in the field, but will hold their greater girth. The best climbing tree stand for big guys has to perform its function, such as allowing you to take advantage of direction of travel, and be strong, letting the hunter focus on the task at hand and not the ground below.
| Product Name | Quality | Weight | Our Rating |
| --- | --- | --- | --- |
| | A- | 25 Lbs | |
| | A+ | 21 Lbs | |
| | A | 17 1/2 Lbs | |
​What To Look For
The smart hunter is prepared long before hunting season is launched. As falls from trees are a noted cause of injury throughout the hunting season, one preparation is having a sound tree stand in their arsenal.
The big guy certainly has reason to be concerned. Tree stands are typically designed for what's considered an average weight, products that larger hunters simply cannot trust to protect them.
Fortunately, manufacturers have started taking these concerns into consideration. More are engineering climbing tree stands with higher weight capacities. Of course, not every stand is better simply because it can hold a greater weight.
Personal requirements - including hunting style - have to be considered to pick the best climbing tree stand for big guys.
Things Consider When Select Climbing Tree Stand
Portability

. The importance of portability differs among hunters. Often, the heavier the stand, the less portable it is. And as any hunter will attest, managing the weight of a tree stand can be cumbersome. Fortunately, manufacturers are learning how to balance a stand's weight and strength. So, the hunter - even the big guys - have greater options.

Flexibility

. If the climbing tree stand only faces the tree, it extremely limits the hunter's movement, especially in a harness. Go with a chair that allows sufficient rotation but minimizes noise.

Features

. Tree stands come with a range of features, most importantly, varying platforms and seat sizes. This will be a major consideration for the big guy. You're not only concerned with the stand's ability to hold you. The hunter has to be a ninja, quiet and still. The simplest movement can find you rubbing against any part of the stand and creating a minor noise which, as we know, can be picked up by the smallest prey and they're gone. Make sure when you choose a tree stand for the big guy, you go with dimensions that allow you to move comfortably, not one you're forced to squeeze into.

Safety

. You want a tree stand that can be quickly set up without having to worry about its ability to keep you safe. It should have efficient lock systems, especially for the hunter that wants to move from site to site without a lot of fuss. While you want easy movement, you don't want a lot of swaying, wobbling or sliding in the stand. The unit should simulate the idea of sitting at ground level.

Comfort

. You want a comfortable working space. Aches and joint stiffening are not uncommon on a hunting trip. If you have the room to move quietly and easily, you can extend the amount of time you can sit significantly, even in the harness.

Location

. Make sure whatever stand you choose, it works with the area where you plan to hunt. Many stands will hold on tall, telephone pole-like trees, but not all woods are littered with tall, straight trees. You want a stand that is ready for a variety of trees, especially if you tend to hunt in multiple areas. In that regard, climbing tree stands are perfect for mobility. If you notice prey activity is elsewhere, relocating will be a snap.
Choosing A Tree
You want to avoid smooth bark trees as much as possible. The surface is less likely to disrupt your positioning. Beech trees are also not the best place for perching for hours.
Climbers are perfect for rough, gnarly surfaces where climber tree teeth can get a firm hold. Pine is soft, but it has enough teeth in its rough texture for a good dig, keeping a tree stand from shifting much. You should be aware that pine can often have dead branches and sap.
​Oak and maple are strong trees with enough bark to minimize shifting. In fact, its bark can seem impenetrable to screw placement. But that only ensures a better setup.
Tips For Using A Tree Stand
Only use tree stands approved by the TMA.
Always carefully read instructions before use and heed warnings when using your tree stand.
Before use, become familiar with all its features and safety devices. Test it on the ground before going out during the season.
Always use your harness whether you are installing, removing or hunting from the stand.
Leave no slack in your harness because even a stopped fall can cause injury if not set securely.
NEVER climb with anything in your hand or on your back. Use your line to raise and lower gear at all times.
ALWAYS inspect tree stand before use.
Use only manufacturer-approved replacement parts. Do not attempt to ever modify the device.
Stay away from trees with loose bark.
Do not use dead trees.
While the serenity makes it irresistible, never fall asleep in a tree stand.
Before climbing, remove anything you can fall on from the area, including rocks, equipment, logs and other obstructions.
Keep an emergency signal device on your person at all times and, if you can get a signal, your cell phone.
Make sure you are physically capable of managing and using a tree stand.
Never use a stand under the influence of alcohol, medications or drugs that might impair safe use.
Always let someone know where you're hunting and when you'll be back.
The Summit Titan SD has a bigger top and longer platform that's definitely more suitable for the big hunter. It will hold the largest of us with a maximum weight of 350 pounds. It has been engineered to significantly highlight comfort, safety and concealment.
It has a durable aluminum construction and a closed front stand type. Its tree diameter is eight to 20 inches. The Summit Titan has a platform size of 21 x 38 inches, an usable platform area of 21 x 20.75 inches and a seat frame of 21.75 x 28.5 inches. Features include a full back rest, quick release adjustable buckles and padded arm rests.
The larger seat and platform means even gear and bulky clothing will not encumber movement. The four point safety harness ensures security as you wait patiently above the ground. It is quickly assembled so that you're in position without a lot of fumbling. RapidClimb Stirrups and 2 QuickDraw coated steel climbing cables make ascension easy regardless of footwear or size. The seat is easily replaceable, ensuring you can extend the life of the product at an affordable cost.​
---
Pros
The product utilizes Dead Metal Sound Deadening Tech, a proprietary feature engineered with custom expanding foam that fill critical parts of the platform and helps to minimum noise movement.
Provides excellent field of vision.
The QuickDraw Cable Retention System is designed for varying tree diameters. The setup requires only the insertion of the cable into a suspension arm's bracket, pulling and securely locking the cable in place. No need for pins, knobs or nuts.
Through Summit.okt precision welding, there promises to be maximized rigidity, enhancing strength and safety.
Has a four point safety harness.
---
Cons
Armrest pads on the Summit Titan SD have been known to twist and even come off completely.
Teeth do not set fully in oak, creating a noise whenever the hunter stands or sits.
Depending on footwear, the platform can be slippery.
Does not come with any pockets or storage spaces.
At 25 pounds, is heavier than comparable products.
Developed to be lightweight with plenty of features, the Lone Wolf Hand Climber Tree Stand has proven to be a great option for the big guy. It folds into a compact five inch profile and weighs in at a mere 17.5 pounds. If you're looking for lots of room, the platform fills out at 30 x 19.5 inches. It has a distinctive 3D camo platform design that promises to be undetectable and contoured foam seat padding.
The unibody construction has no weak spots or joints, ensuring excellent weight support. With its ample spacing, you'll always be able to take perfect aim without a lot of noise or extensive movement that stirs the structure. The stand can be used on trunks that measure six to 19 inches in diameter. The fully-tested six point Fall Arrest System ensures protection and support a big guy is going to need as they climb. The belt locks quietly and will not hinder movement.
The Lone Wolf Hand Climber Tree Stand is TMA approved, has a distinctive 3D camo platform design and a holder that will accommodate most bows with parallel limbs. Its low profile makes for easy carry where heavier products on the back can pull as you walk over rugged terrains or make crossing streams difficult.
---
Pros
Sturdy one piece cast aluminum platform.
Backpack straps and Bungee strap.
Packs small enough to fit into a backpack.
Stirrups are ergonomically shaped, adjustable for any boot.
Quiet and virtually undetectable to targets.
Folds flat and is lightweight.
Design allows for advantageous and comfortable positioning.
Under 18 pounds means easy portability.
---
Cons
Can be difficult to advance unit vertically, especially on coarse bark surfaces.
No clearance for feet on bottom portion of stand, leaving no leverage for using legs.
Belt flex can be difficult for proper seating without drooping.
For some, the teeth that contact the tree are too close to the head when unit is collapsed and being carried.
Seat doesn't fold if hunter wants to stand and stretch.
Bow holder only works with parallel bows.
Summit Treestands Goliath SD Climbing Treestand
The Summit Goliath SD is an excellent climber with features designed specifically for the big guy that needs room that's not restrictive and disruptive to their hunt. The Summit Goliath has a solid front bar for easy climbing that also works as a gun rest. Thick armrest and seat padding ensures you can sit comfortably and still for long periods of time.
The Goliath SD has quality aluminum and SummitLokt with precision welds. This promises every joint is locked in place and engineered so that stress is minimized, leaving a quiet, safe and secure tree stand. The design includes a cable retention system that allows for a fast and quiet set up. The device has a low profile for easy carry on even the longest trek.
The product has the kind of stealthy design that lets you hunt the way you want to, big guy or not. The fall arrest system is approved by the TMA, ensuring safety. The Summit Goliath has a bungee strap for hauling weapons and gear up and down the tree stand. An included backpack strap lets you carry the stand. And while the Summit Goliath has two standard traction belts, it can be fitted for longer belts if you prefer.
---
Pros
Closed front aluminum climbing stand.
Mossy Oak® Break-Up Infinity camo finish.
Foam padded suspended seat with backrest.
Capacity to hold 350 pounds.
Full body fall arrest harness system.
Four point safety harness.
Wide width for quiet movement.
Sound deadening SD tech.
Maximum concealment.
Rapid climb stirrups.
Pads, ropes, straps.
---
Cons
Could use an additional two or three inches of platform for leg room.
Despite claim of 350 pounds, has been known to buckle at over 300.
Paint chips easily.
My Final Thoughts
While we would highly recommend any of the above referenced tree stands to hunters big and small, for our money, we would ultimately go with the Summit Treestands Goliath SD Climbing Treestand. Our leaning isn't so much towards the many features, but because we could find so few issues (cons) with the product.
We can actually deal with a little less leg room and chips in paint. And while we would certainly warn anyone over 300 pounds that others of their size have had issue with buckling, we can still vouch for the Summit Goliath's safety.
The Goliath also fits the criteria we list above for comfort, safety and flexibility. The product actually builds on the manufacturer's Viper SD, another durable tree stand. But the Goliath SD has a redesign and added features for a big man. Yet, more room doesn't have to mean extra weight to carry around.
The Summit Goliath still has exceptional portability. We find it keeps noise down even when we're startled by sudden movement. That goes a long way to maximizing concealment and not scaring off the hunt.