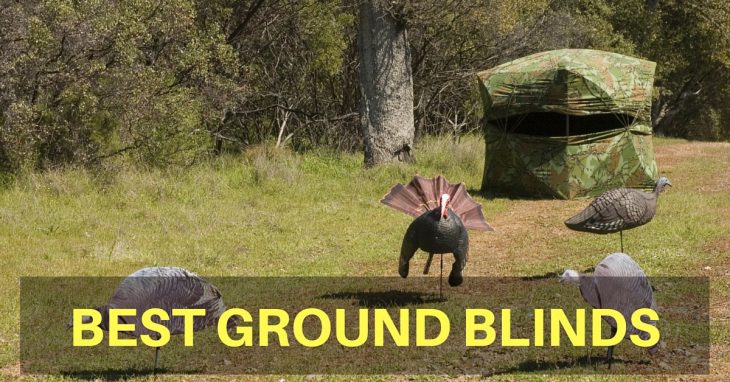 The Five Best Ground Blinds On The Market Today
I have found that having the best ground blind has helped me to kill a lot more game then if I wasn't able to hide in it. You might consider purchasing a top quality ground blind it could make all the difference in the world for you. How? It could mean a successful hunt for you or not.
Reasons to Use a Ground Blind?
#1 The Difference Between Killing Game or Not
You can wear a camo suit to blend in with your surroundings. But you still have to be concerned about the movement you will make. Also, the game can smell your human scent out in the open. With a ground blind, you can hide inside the structure without being detected.
Bucks or Does can come to within breathing distance of your ground blind and they will never know you are there. Your scent will not permeate the surroundings because your ground blind will absorb the scent. Another advantage is you can move around within the ground blind without being detected.
#2 The Ground Blind Come in Handy when You Can't Set up Anything Else
They are perfect for setting up in heavily traveled deer areas. Especially when you cannot set up a tree stand or elevated ground. Besides the ground blind looks more natural as part of the common surroundings the deer will travel. I benefitted greatly from setting up my ground blind in a heavily traveled deer pathway. I could reach out and touch several mature deer that came near my ground blind.
Deer have excellent eyesight and sense of smell. They will pick up a human scent in no time. Any slight movement they will pick up with their keen eyesight. My ground blind saved the day in both respects. I was able to take down a mature buck the first day of hunting.
He came near my ground blind and ate contentedly in some nearby brush. I was able to move around and position myself without a sound. I set up my gun and fire a couple rounds into his vitals. He breathed his last not knowing what hit him. I must say if it wasn't for my ground blind set up I would have never killed the buck.
#3 The Advantage of Setting Up a Ground Blind Early
You will help yourself immensely by setting up your ground blind about 2 weeks before hunting season starts. Why? Because you set up in areas early where you know deer will travel heavily. You will greatly increase your chances of killing your game.
What you want to do is set up your ground blind as a part of the natural surroundings as you can. You might consider using the natural foliage, plants, and shrubbery native to the area. The best ground blinds will come equipped with straps or cords that you can attach this natural camouflage to the structure.
Blinds to come with natural carbon odor suppressors but these aren't enough to eliminate all the smells associated with the blind.
The smalls from the travel, manufacturing and packaging will remain. You can beat these odds by letting your ground blind to sit in the elements for a couple of weeks. You will find that these smells will dissipate over time and the blind will become a natural part of the elements. In other words, the deer will not smell the ground blind.
​#4 Ground Blinds Are Excellent Mentoring Tools for Young Hunters
Did you consider that ground blinds are very good teaching tools for young hunters just learning how to hunt? Two hunters can sit side by side comfortably in one of these. The experienced hunter can then teach the younger hunter the tricks of the trade. The young hunter can catch a glimpse of how it's really done out in the field.
The "trainee" can show his hunting prowess to his mentor. The experienced hunter can point out correct hunting form as opposed to incorrect hunting form. The mentor may make the corrections right there that will help the young hunter become skilled in no time. The two hunters can share hunting questions and answers in an environment where the deer won't be threatened by seeing two humans out in the wild.
You may find that you can teach a young hunter all your knowledge in one sitting which will take years off his learning curve. Another benefit is an extra pair of eyes may spot something that you missed.
​#5 Ground blind positioning really can Be Important
You have heard the term "Location" Location" and "Location" well this principle applies to setting up your ground blind so you always have the advantage. Always set up your ground blind so the sun is to your back and the wind in your face.
You don't the sun will be shining in your eyes and the deer will certainly see your blind in the sun. Setting up with the wind to your face will leave let's chance of the deer smelling any scent coming from your direction.
Evolved Ingenuity 1RX2S010 Hunting Doghouse Ground Blind, Camo Pattern
This particular ground blind comes with some nice features such as shooting through the mesh which eliminates unnecessary movement and quickens the kill for the hunter. It has a portable and compact design, Real tree Extra Camo pattern, suitable for bow hunting and firearm hunting. This blind is one of the best turkey blinds on the market.
Ground steel spring blind. Dimensions are 66x60x 60 inches not quite enough room to sustain two hunters at one time.
Pros
Easy to set up and take down
Good price
Excellent Camo pattern blends in well with natural surroundings
You can get up close to wildlife and be undetected
Material will last a few years then become brittle
Cons
String in the tent poles breaks making it difficult to set up the ground blind.
The zippers are too loud which will scare away any approaching deer.
The screening around the small windows is Velcro all the way around. You will scare any deer with the noise they make.
Seams come unraveled over time.
Ameristep Customer Service didn't seem to care that their product was defective
The blind falls apart after 3 weeks it will not last a season
Ameristep Care Taker Hub Hunting Blind, Realtree Xtra
This blind comes equipped with Real Tree Extra Camo pattern, shoot-through mesh with gun port, Easy set up and take down.
Insect resistant a very nice feature to have and Spider hub is 66" tall and 69" shooting.​
​
Pros
Easy to set up and take down
It has 3 windows on three sides of the blind. It makes it easy to shoot from any direction.
The blind is very durable.
Easy to carry around it's very lightweight.
It has buttonholes in the gun port. This makes it secure to hold the firearm in place.
There is enough room to stretch out and lay down in it.
Well priced
Cons
No instructions for ordering replacement mesh windows.
Replacement mesh windows are not available.
Many pinholes in the material.
Main stitching in the doorway is cheap and it will not last long.
A strong wind came and blew this ground blind several hundred yards away from the setup location. 4 older ground blinds stood the wind.
Each stitch in the ground blind is rotting, unraveling after one season of use.
It's not waterproof because of the many tiny holes in the roof
Barronett Blinds Pulse 2 Person Hub Blind, Bloodtrail Camo
This ground blind is 64" at the center with a 56"x56" footprint. One of best bow hunting blind, the blind is 70" across from hub to hub and it has enough room to fit 2 people. It weighs 13 lbs. for easy mobility.
Pros
Has plenty of windows and it's easy to use.
Nice quality and it's easy to set up.
Windows are placed at the perfect height.
Really good for bow hunting. So easy to carry around. You don't even know you are carrying it in your hunting pack.
The vertical windows are released by toggles and they are very easy to use.
First time setup took less than five minutes.
Heavy drawstring carrying bag.
4 -5.5 ft. long tie cords to tie the side hub eye bolts to the anchors
9 anchor loops around the bottom for 9 anchor stakes. 1 on each corner and on each side between the corners.
The storage bag has two shoulder straps so you can carry the whole blind over one or two shoulders.
So easy to set up and take down.
It is waterproof. It kept the rain out.
Cons
Windows covers and screens are held together by elastic loops and toggles. This isn't very secure.
Two adults can fit in it with limited gear.
​
Evolved Ingenuity 1RX1S008 Hunting Outhouse Ground Blind, Camo Pattern
This Real Tree ground blind has extra camo pattern. It's high enough to stand up in. It is very useful for the crossbow and firearm hunting. It is made of Dura-shell and fabric.
Pros
Good for the crossbow and firearm hunting.
Easy set up and take down.
Great price.
Holds up well in single-digit weather.
Does well in deep snow.
Well worth the price.
The camo is well designed to hide in various surroundings.
Holds up well in all types of weather.
Cons
Not enough room inside to bow hunt.
The arrows would catch on the side of the flaps.
No hooks on the inside to hang things on.
No windows at the entrance so if something comes from behind you while you are in the blind. You will be in trouble.
Not so waterproof.
Took a lot of soap and scent blocker to remove the plastic smell from it.
The zippers are very loud which could scare potential game away.
You cannot see out the windows sitting on a Five-gallon drum, normal hunting chair or stool.
Not enough room to stand in.
Two adults cannot fit in there.
Springy steel supports are wobbly.
Barronett Blinds Grounder 350 Hub Blind, Woodland Camo
This blind is 80" which allows for the user to stand up and shoot. 70"x 70" footprint gives plenty of room for gear. 90" from hub to hub gives you plenty of elbow room.
Very spacious you can fit three hunters on the inside. Weighs only 19lbs. for easy transporting.
Pros
Warm and easy to set up.
Very roomy.
Windows are big. There are many options to open the windows.
Cons
Windows are too high and if you seat in a chair you cannot see out the windows.
This blind cannot be recommended by one user unless you like to stand up for 3 hours.
One hunter is 6'4" and standing inside the blind with a full-size bow it is very tight to try and shoot. He would have to dig 6-8" into the ground to be able to shoot.
Concluding Comments
The Barronett Blinds Grounder 350 Hub Blind, Woodland Camo is the preferred ground blind over the other four ground blinds. It is the biggest and roomiest of all the blinds we reviewed. It is in the middle of the price range and has a good camo pattern. It's light and it is very easy to pack around. Three adult hunters can fit in it and still have room to hunt.
There are big windows to view the game coming from any direction and it is ideal for setting up and shooting firearms from within. You can easily train 3 or 4 young hunters during one hunting trip because there is so much room inside to move around. It's easy to transport it only weighs 19lbs and you can quickly set it up and take it down. It will blend in well in any natural hunting environment.
For these reasons, you should consider buying this ground blind. I wrote this article to help all the hunters out there to review the top 5 ground blinds. It's my hope that the information in this article will help hunters make an informed decision on which blind to buy.
I hope you enjoyed this article if you did please pass it on to all your friends. Leave any comments they are welcome. Thank you for reading.