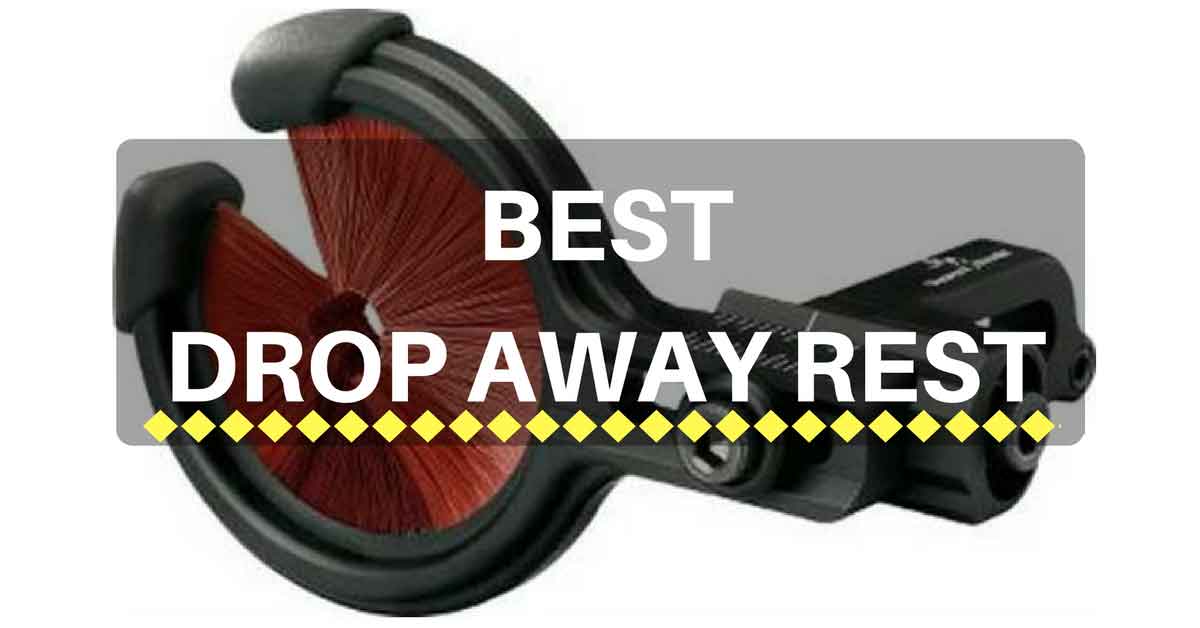 Guide On Choosing The Best Drop Away Rest
Using a bow and arrow for hunting is not something that most hunters do. It's a bit old but it's far more exciting than using guns, so going out there with a normal set of bow and arrows would be good but setting up your gear for a better performance is way better. I am talking about equipping one of the 'best drop away rest' in the market unto that bow of yours before hunting. Using one would help a lot in terms of efficiency and accuracy.
Guide On Choosing The Best Drop Away Rest
Quick Comparison​
Points To Keep In Mind While Choosing The Best Drop Away Rest
#1 Easy to Set Up
Being able to set up your drop away rest even if you do not have the best handyman skills would be totally great. Choosing one that can be easily mounted and used would be cool since you can immediately use your bow after installing the drop away rest.
Check out the total arrow containment and how easily you can adjust the timing cord, time is money and spending some time on just installing something is a waste of time.
Always check your rest since it needs to be always locked or it may cause an accident to you or the people you are hunting with.
#2 Performance
Reading about a good drop away rest is good, you must wish that the product can really do what it claims it can though. Researching for a good rest would be better before purchasing a rest.
Since it is designed to hold the arrow firmly in position even if it is at full draw, it drops down and gets out of the way once the bow fires which helps you be sure that your arrow won't fall off. Look for a good rest that does what it is supposed to do and will serve you for a long time.
#3 Quality
As I've said, the Drop away rest must serve you for a long time, the main reason why quality really matters. Since hunting is an outdoor activity, your gears would be exposed to things that would ruin your gear over time.
Choosing a stainless steel rest over a plastic one would be a wise decision. A stainless rest would not be easily broken and it won't rust as well. If you go hunting on a hot weather, a stainless rest would surely not get deformed because of too much heat.
And of course, be sure to buy from trusted sources to really get a genuine product and not a hoax.
#4 Price
After considering everything I have mentioned above, it's time to check the price of the product. Drop away rests range from cheap ones to expensive ones. It does not necessarily mean that a cheaper rest would not serve you well and an expensive one would be a best choice.
It depends on your budget, your experience as a hunter and how much eager you are on purchasing the said product. If you are just starting to learn using a bow, I think it's much better to buy a cheap one just to try it, but for professionals or hobbyists I would recommend spending some money on this since you are in it for the long run.
These are some of the best drop away arrow rests that you can check out:
Best Best Drop Away Rest Of 2017​
Made with stainless steel and you would only need a Phillips screwdriver and you can install it easily. A smaller target would not be a problem since there aren't any large components that can block your vision like large rests would do.
Once you have installed it and have it set up to your liking, all the shots that you would do would all be true to whatever set up you have. It is easy to adjust and you would not need to adjust it every now and then. It is simple, most people who used it love how easily it can be installed and adjusted and it has a limited lifetime warranty, which the manufacturer boasts of.
Pros
Lightweight
Fits most bows
Right size
Cons
There are instances that an arrow might fall through a slot
Design issues regarding the clamp which holds the timing cord to the bow cable
May have some issues with a thick riser
This arrow rest is a bit small which measures around 10 x 7 x 3.5 inches. You can easily load and fire an arrow with this rest and it can be adjusted real quick. It is a full containment type rest, which makes your arrow fully surrounded when loaded onto the bow.
The fork is covered in felt, which lessens the noise every time an arrow is fired. It also has a felt replacement, which would save you some time whenever you would need to replace a damaged fork while in the middle of a hunt.​
Pros
Camouflage pattern
Extra felt
Full containment
Cons
Not universal, It won't fit all bows
String touches the arrow vanes when shooting which leaves a mark
Weight
As far as product reviews are concerned, this one impressed most of the people who review or have used it since it has great durability. Firing an arrow would not make a loud noise since the felt on the fork would cover the sound.
It has a strong guard though it is surprisingly thin, it measures 9.5 x 6.8 x 1.5 inches, which is about the right size and functions really well. It's one of those full containment enclosure type rests and it functions really good even if the target is a bit small. It is made of high quality materials and it's camouflage look would perfectly blend in any kind of terrain.
Pros
You can use shorter arrows on this rest
Camouflage
Lightweight
Cons
It won't fit all bows
Still have a bit of a sound despite the felt installed.
When it comes to a hunting expedition, nothing should be taken lightly. You need to capture your prey without many struggles. Your arrow should hit the target where you want, and there should be nothing like guesswork. This can be possible thanks to Wingeler Medium Arrow Rest Right and Left Hand- Black.
It is a black sporty accessory that comes in handy when you are faced with both easy and tricky situations during your hunting excursion. The arrow rest is light meaning that you can carry it for long without getting exhausted. In addition to portability, this arrow rest is compact and easy to store.
Wingeler Medium Arrow Rest Right and Left Hand- Black has composite-encased brush capture which can be used as reference points while adjusting it through different levels. It is designed to use with left and right-hand bows.
If you want an arrow rest that gives you enough confidence when going hunting, then the Wingeler medium arrow rest is an excellent choice.
Pros
It is light and compact
It is easy to use thanks to the reference marks which can assist a user to make accurate adjustments
High levels of accuracy
Cons
Some users have complained about the rest being light and comparatively delicate
Hunting requires more than just skills and experience; your hunting tools can make the whole experience enjoyable or frustrating. The Trophy Ridge Whisker Biscuit Kill Shot Arrow Rest will take your hunting experience to the next level. The rest has high levels of accuracy, and it holds the arrow in a stable position preventing it from getting knocked off.
Features
Trophy Ridge Whisker Biscuit Kill Shot Arrow Rest has dimensions of 9L by 7W by 3H making it convenient to handle. The rest is constructed of aluminum, felt and rubber. This does not only make it stronger but also friendly to handle.
It can be adjusted depending on your personal needs and also depending on the wind. This means that nothing will distract you. The rubber boots allow for silent arrow loading, and you can also choose from a wide range of colors available.
​
Pros
Easy to handle and operate
High levels of accuracy
The aluminum material makes it sturdy and durable
The rest is flexible as it can be adjusted to suit your needs
Comes in different colors
Cons
The heavy presence of rubber and some elements of plastic material has made the arrow rest to look soft and girly
Overview
What makes this list special you may ask? Well, these Rests that we featured here are by far the great choices you can get in the market. They won't cost an arm or a leg to purchase and they are all durable with different styles that you can choose from.
Be it you are a professional when it comes to hunting or an amateur, using these rests would surely give you quite an experience. We featured these rests to fit whatever you may need when it comes to drop away rests.Choosing a drop away rest and choosing the best drop away rest are different things, so why not choose the best instead of just plainly purchasing right?
Conclusion
Trophy Ridge Whisker Biscuit Kill Shot Arrow Rest is perfect arrow rest to both the experienced and new hunters. Its unique feature will help you to get the best results within the shortest time and with much ease.
I am not saying that it is the best among the other rests out there, but for me, the features are quite good for a rest. I have read of people who have been using it for years and yet do not have any problems with it.
Aside from that, It has a lot of extra percentage of vane clearance which is important when going on a hunt. And it brags of a feature that assures you that no bounce back would ever happen when ever you would use it.