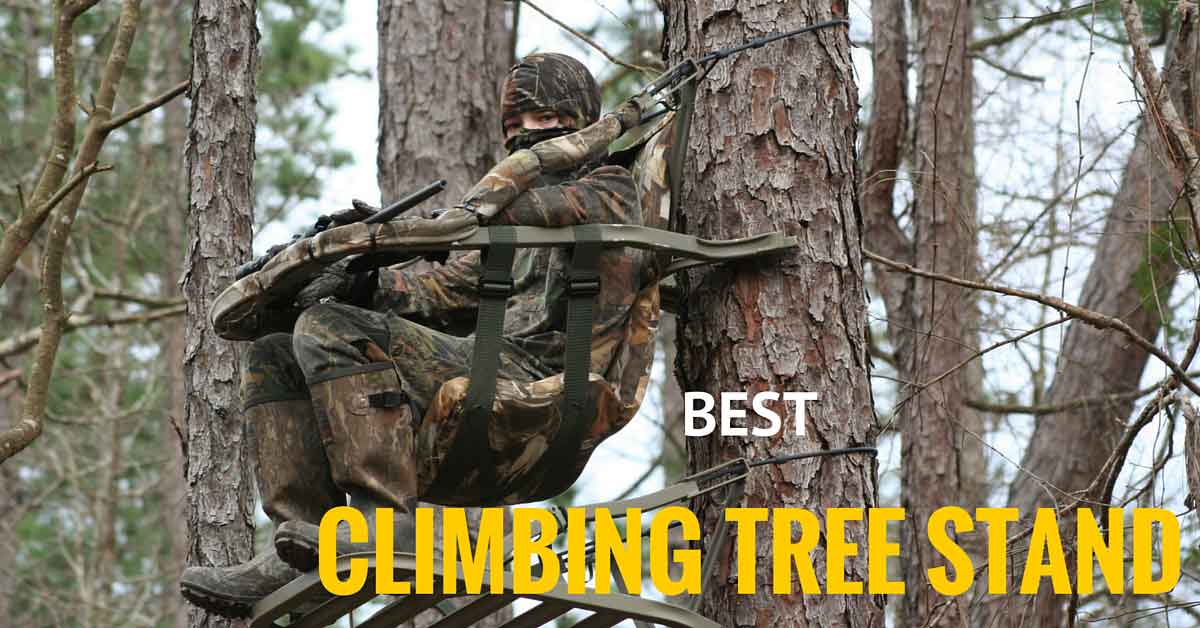 The 5 Best Climbing Tree Stands To Bag That Buck!
Hunting is a trial of patience, skill, and preparation. If you're not prepared, you're setting yourself up for failure. Because of this, it's essential to buy the best gear possible. One piece of gear that you can't skip out on is a good tree stand. But what's the best climbing tree stand to buy? And why should you invest in one?
The 5 Best Climbing Tree Stands to Bag that Buck!
​Why You Should Be Using A Tree Stand
​Tree stands are synonymous with hunting. They're an important tool that often impacts whether a hunt is a success or a flop. When used properly, you'll be invisible to any animals. Your increased vantage point will help you spot your prey and stay out of site. You'll be able to lure them close using different types of traps, calls, and scents. Tree stands let you control the flow of your hunt.
While it's possible to go hunting without a tree stand, it's often not recommended. Using a tree stand is a great way to increase your odds of bagging a kill, especially if you're a novice hunter. They let you observe the location while hunting and let you relax while doing so. You won't be on your feet all day long, tracking your prey and they can make your trip a more enjoyable experience. We know many hunters that swear by tree stands. Many admit they wouldn't be half as successful as they are if they didn't use one.
Like any other piece of hunting gear, they're a tool and don't guarantee you a kill. But when used in conjuncture with the right gun, bait, and location, you can greatly increase your odds of success.
Why Some Won't Use A Tree Stand
​Still, while many hunters swear by tree stands, there are some who vow to never use them. They say it actually makes it harder to shoot whatever it is you're hunting. Why is this? Some claim that animals, such as deer, are easily spooked and will avoid an area for days afterward. If you're using a tree stand, this can be a problem, especially if it's a permanent one. Some hunters say you'll have better luck hunting on the ground and tracking the animals by foot. While some of these hunters may be right, it's up to you to make the decision yourself.
Success In Your Tree Stand
How can you remedy this problem of scaring away your game? To begin with, you'll want to be as quiet as possible, all the time. Animals get spooked at foreign sounds, so the quieter you are, the better. Be careful while moving, especially while setting up your tree stand. Mask your scent using sprays. Don't make sudden movements and be sure to set your tree stand up out of the animal's line of sight. If you do this correctly, the chances of the animal seeing you fall significantly. A shot may cause your chosen animal to avoid the area for days afterward. Be sure to take careful consideration when taking a shot. If you don't see prey in one location, it may be worthwhile to move to a new one.
What To Look For When Buying A New Tree Stand
​When looking to buy a tree stand, there are some important things to look for. The first thing to keep an eye out for is the type of tree stand you're looking to buy. They come in many varieties, but the most common is the climbing tree stand. If you've never seen one in action. check out the video for more information. This shows you how to set up your tree stand.
Other varieties include ladder tree stands, hang-on tree stands, and sling type tree stands. Each appeals to a different type of hunter.
Recognize what you'll be using your tree stand for. Lightweight tree stands are less durable, but easier to move in and out of a location, especially if you're on public land. If you're hunting on land you own, a more durable and heavy tree stand is a safe investment.
The next thing to keep in mind is the weight of the tree stand. This ties back to how you'll be using your tree stand. Next, be sure to see how durable your chosen tree stand is. Heavier materials will often be more durable, but this is not always the case.
It's important to find out how well put together the tree stand is. A frame made of steel is useless if the joints are weak and break, for instance. Likewise, cheaper materials put together well may last a long time.
Since you'll be spending a great deal of time in it, it's important to choose one that's comfortable. Hunting can be a rewarding experience, or it can be a letdown. There's no reason to make your trip that much worse by being uncomfortable the entire time.
What's The Best Type Of Tree Stand?
So, is there a best type of tree stand? Hunters will give you a variety of answers, but climbing tree stands are always a favorite choice. They're lightweight, portable, and easy to set up and take down when you get the hang of them. They're often more comfortable than some other types, too. They may not be the best choice for a permanent tree stand, but they're the best all-around tree stand on the market.
​This is the perfect tree stand for hunters that have to hunt on public lands. It's lightweight, portable, and is easy to carry, even over long distances. Despite its small size, this tree stand has everything you're looking for. If you're looking for a nonpermanent tree stand, the Hand Climber Combo II is hard to beat.
---
Pros
Extremely portable – easily set it up and take it down each day
Keeps the weight close to your back and out of your way while walking, unlike many other tree stands
Lightweight and more compact than other tree stands
Despite the small size, it's extremely sturdyIt's also quiet, especially when you're moving around in the stand
The platform and seat can be angled away from the base however you prefer. This lets you set up in trees with a lot of limbs. You can even set this tree stand up with a limb between the platform and base, though it may be uncomfortable
Quality construction
---
Cons
Its compact size may be too small for larger hunters to use comfortably
Features a small seat – after hours of sitting in the tree stand, you can become uncomfortable
The top strap, covered in the teeth that hold the stand to the tree securely, is at a height where it's easy to hit your head on them. Be sure to mind your surroundings or simply cover the strap with something soft
Can be awkward to climb up and takes some getting used to. If you're out of shape or not used to climbing up other tree stands, this may not be the best tree stand for you
Maybe expensive than other tree stands
The Viper Classic tree stand is a classic. It's made of sturdy steel, so you know it's durable and will never fail you while out in the field.
It doesn't sacrifice safety, comfort, or durability to make an excellent and reasonably priced tree stand. It's durable enough to leave out permanently and portable enough to carry wherever you need to go.
---
Pros
One of the safest models on the market. If you're afraid of falling, consider buying the Viper Classic
Features a four point harness for safety and lineman loops
Constructed using a steel frame. It's durable and will last you a long time. The steel platform is large and stable, letting you take shots without worrying about wobbling in your stand
It also features a large, dual foam seat. If other tree stands are too small for you, consider giving this one a try. It's perfect for trips where you're expecting to spend entire days up in your tree stand
Summit's customer service is unbeatable. If you ever have any problems with your tree stand, expect a quick response from Summit
---
Cons
The large steel frame is also heavy. It weighs 30 pounds. If you know you're going to have to lug this tree stand in and out day after day, there might be better models to choose from
Setting up the Viper Classic takes some practice
The supplied carrying straps lack padding, though replacing them is an easy project
The Viper SD is an excellent choice. It's strong, durable, and above all, lightweight. It's perfect for hunters that want everything in a light package: it's durable enough to be left out as a permanent tree stand while being lightweight enough to carry day after day.
It's a quality product that's going to last a long time, no matter how you use it.
---
Pros
Another one of Summit's great offerings, backed by a five year limited warranty
Extremely safe, featuring a four point safety harness and SummitLokt – technology that utilizes precision welds for rigidity and strengthThe Viper SD, unlike the Viper Classic, is constructed of lightweight aluminum
Still extremely durable, but weighs only 20 pounds
Transporting the Viper SD is a breeze. The included backpack straps are comfortable and let you carry it over long distances
Features Dead Metal technology, which is used to deaden sound, keeping you silent when setting up the stand and while sitting in it
QuickDraw technology lets you quickly and easily set up your tree stand with no pins, knobs, nuts, or bolts. Everything automatically locks into place as you set it up
The cables that hold the stand in place are thick and good quality
Comfort is also one of the major selling points of the Viper SD – be sure not to fall asleep and miss your prey!
---
Cons
While the construction of the Viper SD is premium, the paint coating is not designed to last. For the best camouflage from your prey, consider repainting this tree stand
It's pricier than some other models on the market
The safety bar obstructs your field of view, especially while firing. While other models may allow you to shoot while sitting down, you'll get best results by standing and firing
If you're a hunter on a budget, the Multi Vision Steel should be one of your top choices. It's cheap enough that you can save a considerable chunk of cash while still boasting impressive qualities. It has a few drawbacks, but they're not deal breakers.
If you're willing to sacrifice a few luxuries to save your money, then the Multi Vision Steel is right up your alley.
---
Pros
Features a single mesh seat
The mesh seat also retracts backwards towards the tree the instant you stand up, so there's no fiddling to get the seat out of the way before you take a shot
Built from heavy duty steelStill, another quiet climbing stand
The Multi Vision boasts three different types of set up – the classic straight bar, reversible foot rest, and reversible gun rest. This stand is versatile and will fit any hunter's needs
Will hold up well no matter what weather conditions you're in. It's also a great choice for any type of tree and can latch on to even the slipperiest bark
Features pointed teeth that imbed themselves deeply in the tree – once they're in, they're hard to remove. This can make it harder than other tree stands to take down, but at least you'll be safe and secure
---
Cons
Doesn't feature a back rest, so leaning back against a tree can be uncomfortable
One of the heavier seats on the market, weighing in at 29 pounds
Some of the construction is lacking – surface rust is a widespread problem and some of the painted coating chips away easily. The safety clips are plastic that can break. Still, for its price and versatility, this is an excellent tree stand
Pointed teeth imbed deeply and can be a hassle to take down
If you're really on a budget, the Deluxe Hunting Climber Tree Stand is what you want. It's heavy and made of some lower quality materials, but it's still durable, safe, and another smart choice.
Plus, with a little bit of elbow grease, it's possible to upgrade this tree stand to a truly outstanding piece of equipment while still remaining cheaper than other models.
---
Pros
A bargain priced tree stand that's sure to please while being easy on your wallet
Features a super sturdy steel frame
Climbs trees extremely easily and grips the trunk safely without any slippage
Features a full body restraint harness – once you're in this, you're not going anywhere!
Features a padded seat and backrest. If the padding isn't enough for you, it's possible to bend the backrest down and double your padding for more comfort
With its low price, it's easy to replace any straps, cables, or any other part of the stand cheaply to better fit your needs
---
Cons
The frame weighs in at 33 pounds
Instructions on how to assemble the tree stand aren't very clear, but can be figured out with some work
Carrying straps are extremely uncomfortable and dig into your shoulders while carrying, so if you're going to be transporting this day after day, you may want to look for another tree stand
Metal clamp on the boot strap can cause a lot of noise, so if you're not careful, you might scare your prey away. Still, this is mainly a problem when ascending and descending. If you take some care while you're in the stand itself, you'll be silent
If you're over six feet tall, this stand may be a bit too small for you to sit comfortably
Conclusion
These five tree stands are all great choices for the best climbing tree stand on the market. But which is best? In our opinion, the Summit Treestands Viper SD Climbing Treestand is your best bet. It's lightweight, but doesn't skimp on safety or comfort to make it so. It's easy to carry out to your chosen hunting spot, and even easier to set up! It's designed to make your life hunting more enjoyable, and it succeeds on all fronts.
Using the Dead Metal technology and a fresh coat of camouflage, your prey is sure to never know you're there. While it's a bit pricier than other models, it's worth every penny. Your only worry about the Viper SD is getting too comfortable and falling asleep while in your stand. Besides needing a new coat of paint, there isn't a downside to buying the Viper SD.
It meets the needs of every type of hunter. It's lightweight, portable, strong, comfortable, easy to set up, and it's safe. While not as durable as some steel framed tree stands, your stand will last for years with proper care. If you're ready to jump start your hunting career, look no further than the Viper SD.